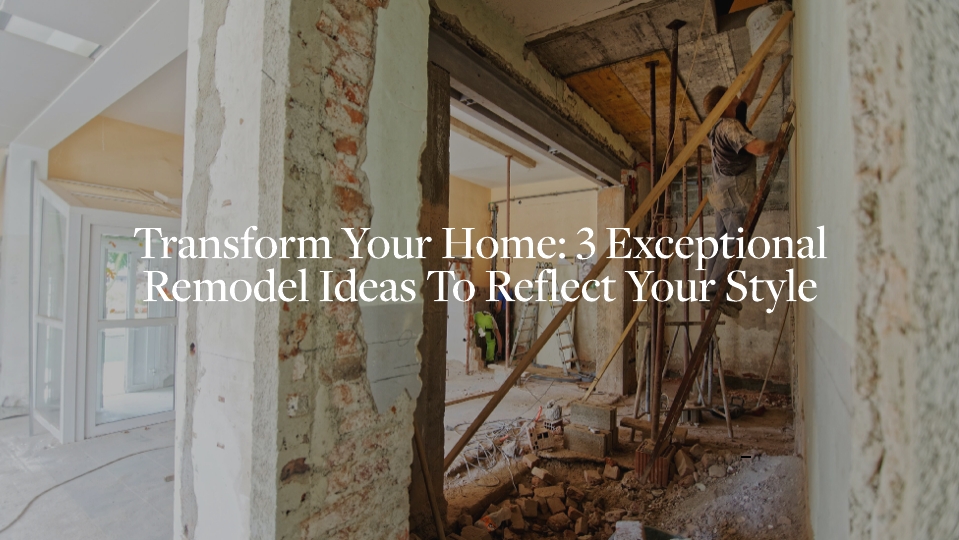 Uncategorized
10/11/2023
Transform Your Home: 3 Exceptional Remodel Ideas to Reflect Your Style
Your home reflects your personality, a sanctuary where memories are made, and dreams come to life. Whether you've recently moved into a new house or have lived in your current abode for years, a home remodel can breathe new life into your living space and create an environment that genuinely resonates with your style and needs. In this blog, we'll explore three exceptional home remodel ideas that can transform your house into a haven of comfort, functionality, and aesthetics.
Open Concept Living: Redefining Space and Interaction An open-concept living space has become a popular choice for modern homeowners, and for good reason. This design philosophy removes walls and barriers between traditionally separate rooms, creating a seamless flow of space that promotes interaction and unity among family members and guests.
Advantages:
Enhanced Socialization: By eliminating walls between the kitchen, dining area, and living room, you'll facilitate easy conversations and create a more inclusive atmosphere for gatherings.
Ample Natural Light: Open layouts allow natural light to flow freely throughout the space, making your home feel brighter and more inviting.
Flexible Design: The absence of walls provides endless opportunities for creative furniture arrangement and interior design, allowing you to experiment with various layouts.
Considerations:
Professional Guidance: Consult an experienced architect or interior designer to ensure structural integrity and a balanced layout.
Functional Zones: While open-concept living encourages fluidity, it's essential to establish distinct functional zones within the space to maintain order and organization.
Outdoor Oasis: Expanding Your Living Space Transform your backyard into a tranquil retreat by creating an outdoor oasis that seamlessly merges nature with comfort. This remodel idea allows you to enjoy the beauty of the great outdoors while providing a space for relaxation, entertainment, and quality time with loved ones.
Features:
Patio or Deck: Build a spacious balcony or deck with comfortable seating, an outdoor dining area, and a cooking space.
Landscaping: Incorporate lush greenery, vibrant flowers, and a small garden to enhance the natural ambiance.
Water Features: Consider adding a calming water feature like a fountain, pond, or small waterfall to create a soothing atmosphere.
Benefits:
Health and Wellbeing: Spending time outdoors has numerous benefits for mental and physical health, promoting relaxation and reducing stress.
Entertainment: An outdoor oasis is ideal for hosting gatherings, barbecues, and intimate alfresco dinners.
Property Value: Well-designed outdoor spaces can significantly increase your home's resale value and curb appeal.
Smart Home Integration: Embracing the Future of Living Incorporating smart home technology into your remodel can revolutionize how you interact with your living space. Smart home integration offers convenience, efficiency, and luxury, from controlling lighting and temperature to managing security and entertainment systems.
Smart Upgrades:
Smart Lighting: Install automated lighting systems that adjust based on the time of day or your preferences.
Thermostat Control: Smart thermostats learn your habits and adjust temperature settings accordingly, leading to energy savings.
Security Systems: Monitor and remotely control security cameras, door locks, and alarms using your smartphone or voice commands.
Home Entertainment: Create a cinematic experience with integrated audio and visual systems that can be controlled from a single device.
Advantages:
Efficiency: Reduce energy consumption and utility bills by optimizing lighting, heating, and cooling systems.
Convenience: Control various aspects of your home quickly, whether at home or away.
Customization: Tailor your living environment to suit your preferences, from lighting moods to room temperatures.
Embracing a home remodel is an exciting journey that allows you to shape your living space according to your desires and needs. Whether you opt for an open-concept layout, create an outdoor oasis, or integrate smart technology, each of these remodel ideas has the potential to elevate your home and enrich your daily life. By infusing your style and considering the practical aspects, you can turn your house into a harmonious haven that reflects your unique identity while providing comfort, functionality, and aesthetic appeal.