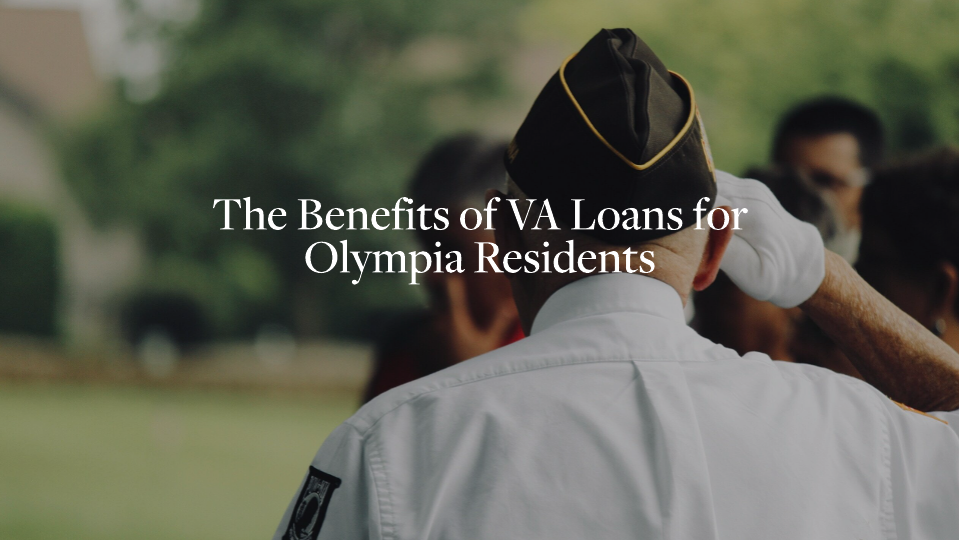 Uncategorized
11/7/2023
The Benefits of VA Loans for Olympia Residents
Olympia and its neighboring city, Lacey, boast a strategic location that makes them particularly appealing to veterans. The proximity to the Joint Base Lewis McCord (JBLM) – one of the largest military installations in the U.S. – provides easy access to a wide range of services, support, and employment opportunities dedicated to military personnel. This significant advantage contributes to Olympia and Lacey's reputation as favorable locations for veterans transitioning to civilian life or seeking to leverage the benefits of a VA loan.
Compared to conventional loan programs, the VA loan program, facilitated by Veterans Affairs, brings unique advantages for veterans, servicemembers, and their eligible surviving spouses. The primary purpose of this program is to assist these individuals in becoming homeowners, offering a comprehensive suite of services related to home acquisition and modification. This includes the home loan guaranty benefit, a significant feature that ensures a particular portion of the loan, thus offering favorable terms to the borrower. This guarantee allows private lenders such as banks and mortgage companies to provide loans with better terms, including potentially lower interest rates, flexible repayment plans, and the possibility of no down payment. By offering access to these services and benefits, the VA loan program dramatically simplifies the process of buying, building, repairing, or adapting a home for personal occupancy. For Olympia residents, this means a more accessible and more affordable path to homeownership.
No Down Payment Required
A standout benefit of the VA loan program is its opportunity for individuals to become homeowners with zero down payment. VA direct and VA-backed Veterans home loans aim to assist veterans, service members, and their survivors in purchasing, constructing, improving, or refinancing a home. Although prospective borrowers must still fulfill necessary credit and income requirements for their desired loan amount, a Veterans home loan potentially provides superior terms to a traditional loan from a private bank, mortgage company, or credit union. For instance, 90% of VA-backed loans are granted without a down payment. This advantage is particularly beneficial for veterans seeking to acquire a home during their service period and those planning for life after the military.
No Mortgage Insurance Required
Unlike conventional loans, VA loans don't require mortgage insurance. With a traditional loan, you'll typically need to pay mortgage insurance if you put down less than 20% of the purchase price. This can add hundreds of dollars to your monthly mortgage payment, increasing the overall cost of homeownership. With a VA loan, you can save monthly money by not having to pay mortgage insurance.
Competitive Interest Rates
VA loans typically offer lower interest rates than in the current market. While the Veterans Affairs organization does not directly set the interest rates—handled by the private lender—the VA's guarantor status often influences mortgage brokers to offer more favorable terms. This guarantee reduces risk for the lender, creating the potential for a lower monthly mortgage payment for the borrower. Consequently, the inherent protection provided by the VA loan program can lead to more advantageous interest rates for veterans and service members.
Primary Residence Requirement
One of the significant conditions of the VA loan program is its primary residence requirement. Borrowers must guarantee that their acquired house will serve as their primary residence. This stipulation generally aligns with the intentions of most buyers who plan to inhabit the homes they purchase. However, it may present a hurdle for those contemplating using the VA loan and a private lender to acquire a second home or vacation property. There are instances where you can possess two VA loans concurrently, but timing is crucial. For example, you can purchase a new house while retaining ownership of your previous one, converting it into a rental investment property. However, the most recent house must be the one you reside in full-time. If considering multiple VA loans, be vigilant of your entitlement limit. If you exceed it, refinancing one of the loans to a conventional loan may be more viable. In scenarios where a VA loan is employed to acquire a multifamily unit (up to four teams), ensure that you will reside in one of the units. This compliance with the primary residence requirement is essential to maintain the VA loan's advantageous benefits.
Assistance for Disabled Veterans
VA loans also offer assistance to disabled veterans. If you have a service-related disability, you may be eligible for a waiver of the VA funding fee, saving you thousands of dollars. Additionally, VA loans offer unique resources to help disabled veterans modify their homes to improve accessibility. These resources can include ramps, wider doorways, and other modifications to make your home more comfortable and accessible.
In conclusion, VA loans benefit Olympia residents, particularly veterans. The advantages range from no down payment requirements and the absence of mortgage insurance to competitive interest rates and flexibility in qualifying. This makes homeownership a more affordable and attainable reality for veterans. If you are a veteran in Olympia considering buying a house, it may be worth exploring your options with a VA loan. You might be pleasantly surprised by the considerable savings and the increased accessibility to homeownership. At Olympic Sotheby's International Realty, we have agents who have served in the military, like Tim Lynch and Missy Watts, who can guide you through the VA loan process with understanding and first-hand experience. Reach out to us today to start your journey towards affordable homeownership.