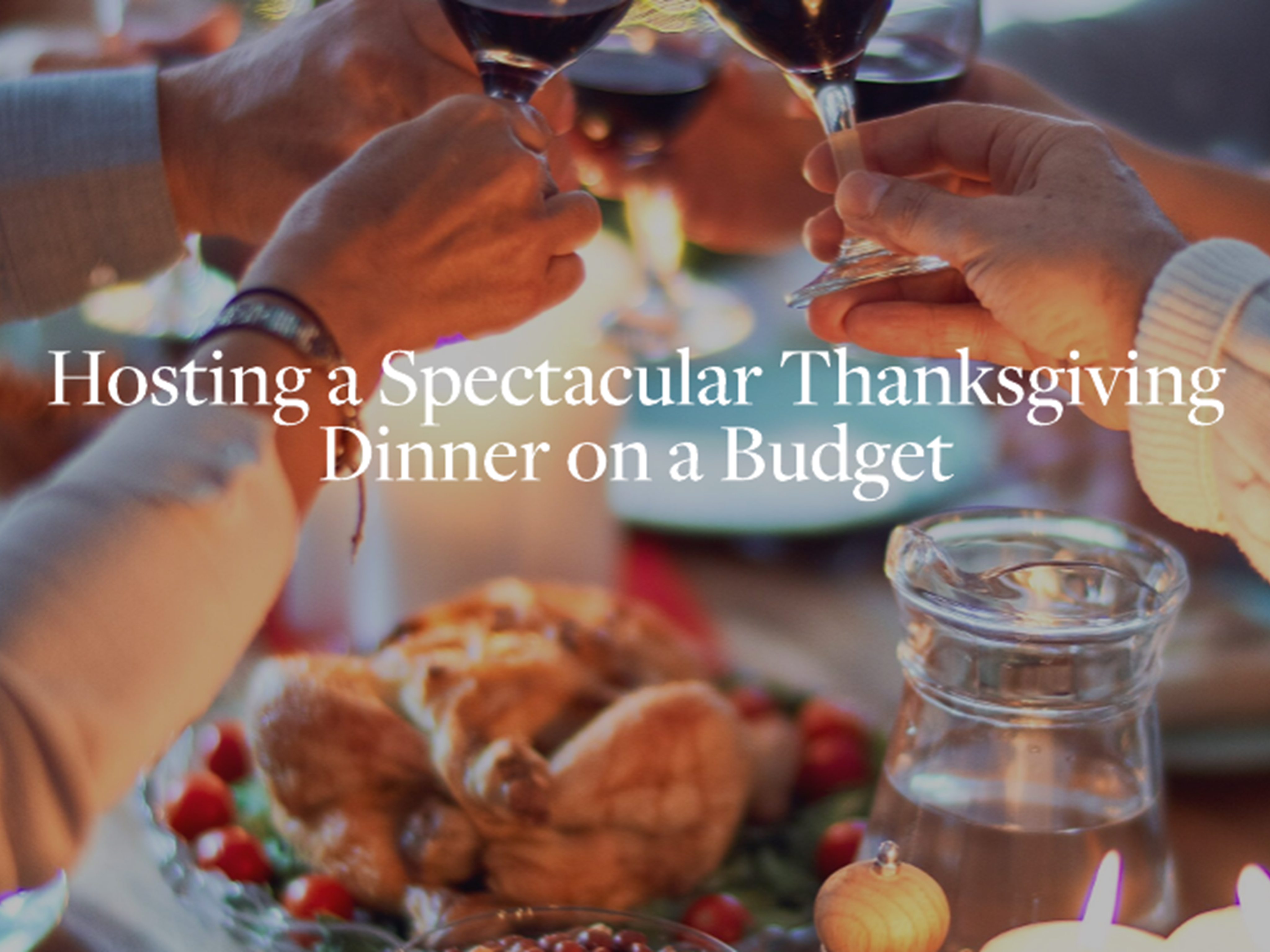 Uncategorized
11/15/2023
Hosting a Spectacular Thanksgiving Dinner on a Budget
We understand that saving money without compromising on the joy and spirit of the holiday season is more important than ever in these challenging times. There's a common belief that hosting a spectacular Thanksgiving dinner requires a lavish budget. However, we'd like to reassure you that with creativity, careful planning, and smart shopping, it's possible to prepare a memorable and delicious feast that doesn't break the bank.
Thanksgiving dinner is the perfect opportunity to bring your friends and family together to share love and gratitude. However, with so many costs associated with the holiday, hosting a Thanksgiving dinner can soon spiral out of control, leaving you with a hefty bill. If you're feeling the pinch and are on a tight budget, you can still host the perfect Thanksgiving dinner without breaking the bank. This article will give you all the tips and tricks to host a spectacular Thanksgiving dinner on a budget. We'll show you how to decorate your table and home, what to serve, and how to keep costs low while impressing your guests.
Decorations: The first step to creating a welcoming atmosphere for your guests is to decorate your home and table. Instead of buying expensive fall decorations, opt for do-it-yourself (DIY) décor. You can create beautiful centerpieces using natural materials like fresh flowers, pine cones, and branches. Also, consider using cloth napkins and patterned tablecloths instead of disposable ones. They will elevate your table setting and are more eco-friendly. The beauty of DIY decor is that it often requires little more than a creative eye and a walk through your backyard. For instance, autumn leaves in vibrant shades of red, orange, and yellow can be gathered together to make stunning table arrangements or doorway wreaths. Similarly, fallen branches can create rustic elements for your decor. Don't overlook the potential of acorns and pinecones - these can be painted or glittered for an added festive touch. So before you consider purchasing pre-made decorations, take a walk around your garden or local park, and you might be surprised at the natural bounty available to you.
Menu: Being on a budget doesn't mean you have to skimp on the Thanksgiving dinner menu. Instead, focus on inexpensive cuts of meat like turkey wings or drumsticks. These turkey parts are often cheaper and easier to cook than a whole turkey. Additionally, consider incorporating seasonal produce like Brussels sprouts, sweet potatoes, and green beans, which should be easy to find and cost-effective. Finally, instead of buying pre-made desserts, attempt to make a pumpkin pie or apple pie at home; these recipes can save you a lot of money and add a personal touch to your event. An often overlooked way to stretch your budget for Thanksgiving dinner is to take advantage of deals at your local grocery store. Many stores offer substantial discounts on turkey if you purchase other food items, such as vegetables or baking ingredients, that you were planning to buy anyway. Watch for these promotions in the weeks leading up to Thanksgiving. These deals allow you to get your main dish at a reduced price and tick off other items from your shopping list, making your Thanksgiving preparations more economical and efficient.
Guest Contributions: Hosting a potluck Thanksgiving dinner can also help you save money on your food bill. Make a list of items needed for the dinner and share it with your guests, asking them to contribute if possible. You'll be surprised at how willing people are to bring a dish to share, and it creates a family-style atmosphere, which is perfect for Thanksgiving. Opting for a potluck-style Thanksgiving helps save on expenses and significantly reduces the pressures associated with meal preparation and cleanup. By sharing the responsibility of cooking, you can focus more on enjoying the day rather than being overwhelmed with the tasks of preparing and presenting an entire Thanksgiving meal single-handedly. This approach also allows for a wider variety of dishes, as everyone gets to share their favorite holiday recipes. Furthermore, the communal cleanup post-dinner becomes a shared duty, making it less taxing and giving more time to catch up, watch football, and nap.
Hosting a Thanksgiving dinner on a budget doesn't have to be daunting. With creativity, planning, and flexibility, you can create a memorable and enjoyable experience for your guests. Using these tips, you can save money while delivering a delicious meal in a beautiful atmosphere. Being grateful for what we have is an essential part of Thanksgiving, and sharing this time with loved ones is invaluable, regardless of the budget. So don't let this year's Thanksgiving prep get you down. Embrace it and savor the time you have with friends and family.