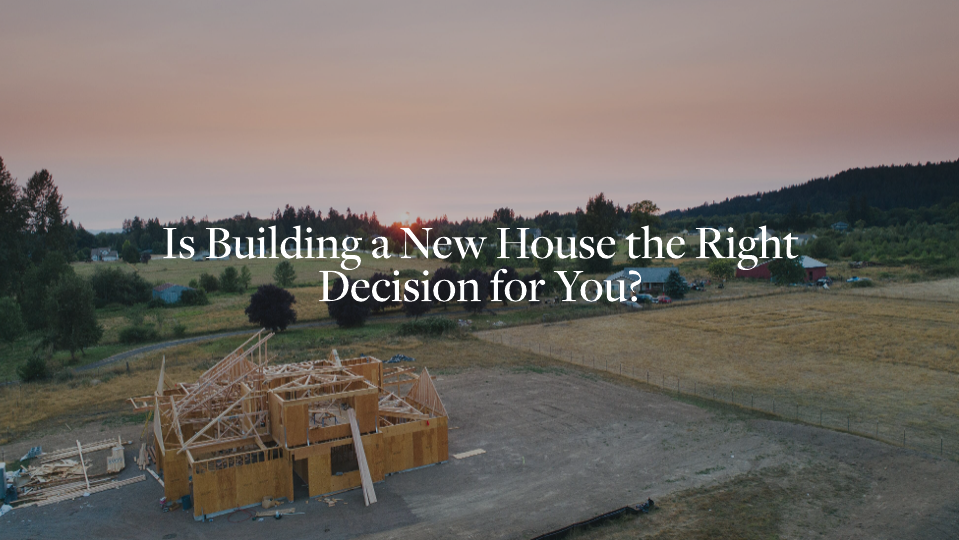 Uncategorized
10/19/2023
Is Building a New House the Right Decision for You?
There are several compelling reasons why opting for new construction could be the perfect path for you. One of the first considerations is your preference for a specific neighborhood. New developments often spring up in up-and-coming areas, offering an opportunity to be a part of a fresh, vibrant community from its inception. However, it's important to remember that building in a new development can also be a long game. New communities can take time to mature, with amenities such as parks, schools, and local businesses often arriving later in development. The sense of community may also take time to develop as new residents gradually move in and establish connections with each other. This gradual growth and evolution can be exciting for some, offering the unique opportunity to shape and influence the neighborhood's character. For others, it may be a deterrent, particularly for those seeking immediate access to established amenities and a ready-made community.
The choice of builders is another crucial factor. With new construction, you can select a builder whose vision aligns with your own, ensuring that your new home reflects your taste and needs. When it comes to choosing a builder, due diligence is essential. Researching various builders, their previous projects and client reviews can provide valuable insights into their professionalism, quality of work, and reliability. Also, engaging the services of a real estate agent with firsthand experience working with builders can be tremendously beneficial. They can offer advice based on their interactions and experiences, possibly saving you from pitfalls and helping you identify builders most likely to meet your needs and expectations.
Lastly, style plays a pivotal role in this decision. New construction often incorporates the latest architectural trends and innovations, providing an ideal option for those who desire a contemporary, chic dwelling. Building a new house might be the right decision if you crave modern amenities, up-to-date design, and the chance to customize your home.
On the other hand, if you have a vision for traditional or classic styles and desire homes with distinctive characteristics, it might be worth considering older homes around Olympia. There are tons of neighborhoods with great character in their houses. These older homes often exude charm and character that new constructions may lack, presenting unique architectural details, mature landscaping, and a sense of history. Older neighborhoods also often offer established communities with a deep-rooted sense of camaraderie, a feature new developments may take time to cultivate. Alternatively, you may also explore custom builder developments. These developments provide the benefits of new construction — modern amenities, energy efficiency, and customization — while ensuring each home is unique and not a "cookie-cutter" replica of others in the neighborhood. Whether you choose a century-old house, a new construction, or a custom-built home, the choice ultimately rests on your aesthetic and lifestyle needs.
Indeed, Olympia is home to several well-established and traditional neighborhoods teeming with history and unique character. The South Capitol Neighborhood, for instance, is renowned for its grand, historic residences, tree-lined streets, and a strong sense of community. This neighborhood perfectly captures the essence of timeless appeal and old-world charm. On the Eastside, the Bigelow Neighborhood is another area with deep historical roots. It boasts a diverse array of styles, offering potential homeowners a wide selection of unique homes. Each house in these neighborhoods tells a story of its own, making both the South Capitol and Bigelow Neighborhoods the epitome of what it means to live in a place where history, community, and charm intertwine.
However, not all neighborhoods in Olympia are steeped in history. Some, like the Preserve in Tumwater and Meridian Campus in Lacey, represent the city's modern face. Though lacking the historic charm of the South Capitol or Bigelow neighborhoods, these neighborhoods offer their unique advantages. The homes here are new, fitted with the latest amenities, and designed to meet the ever-evolving lifestyle needs of the contemporary homeowner. They might lack the grandeur of century-old residences, but they more than compensate for it with their modern aesthetics and conveniences. Moreover, these neighborhoods feature community amenities like parks, walking trails, and schools, making them attractive to families. The Preserve in Tumwater, for instance, is known for its move-in-ready homes with excellent access to I-5. Meridian Campus in Lacey boasts a network of trails and a golf course. Indeed, these communities reflect a different but equally appealing facet of living in Olympia.
Building your own home can indeed be an exciting venture. It presents an exceptional opportunity to tailor each aspect to your needs and design preferences, creating a unique home that reflects your lifestyle and personality. However, it's crucial to understand that this process requires significant time, patience, and resources. Building a new house is not an overnight endeavor; it typically involves complex stages, from acquiring permits and drafting plans to laying the foundation, erecting the structure, and finishing the interiors. It demands exceptional coordination and communication with your chosen builder. Establishing a strong rapport and maintaining open lines of communication with them can make a remarkable difference in navigating this journey smoothly. Ultimately, the joy of creating a bespoke home is a rewarding experience, provided one is prepared for the commitment it entails.
Whether you're considering the purchase of vacant land to build your dream home or searching for a ready-made home in a specific neighborhood, Thurston County has plenty to offer. Explore these opportunities today and find a place that truly suits you. Connect with an agent at Olympic Sotheby's International Realty - their expert knowledge and dedication can guide you through securing the perfect piece of real estate. Don't wait—reach out today and take the first step toward securing your dream home in Thurston County.
Pros of building a new house:
Personalization: Building a new house allows you to personalize every aspect of your home, from floor plans to finishes. You'll have access to the latest design trends and green technology, and you can create a space that fits your lifestyle and needs.
No repairs: A brand-new home is unlikely to require repairs or maintenance, saving you time and money in the long run. Moreover, warranties may cover many components in your new home for several years.
Energy Efficiency: Modern homes are more energy-efficient than older ones, and new construction follows more stringent building codes. This translates into lower utility bills and a considerably reduced home environmental footprint.
Faster Resale: New homes are more attractive to potential buyers and tend to hold their value better. So, if you ever decide to sell, you can be assured that you'll get a good price for your new home.
Cons of building a new house:
Cost: Building a new house can be significantly more expensive than buying an existing home. From land costs and permits to construction expenses, many hidden costs are associated with building a new home. Get an accurate estimate from licensed contractors at least two or three so you can compare quotes and keep costs under control.
Time: Building a new house requires time, and delays or unforeseen circumstances, such as bad weather, can prolong the process. Ensure you are comfortable with the timeline and can accommodate delays in each building process step.
Potential problems: New homes are not entirely immune to problems. In some cases, new construction might reveal unexpected issues, such as structural or plumbing problems that require expensive repairs.
Extra work: Building a new house can be a lot of work, from selecting the builder and finishes to managing the construction process. If you're not ready to oversee a significant project, this might not be your best option.