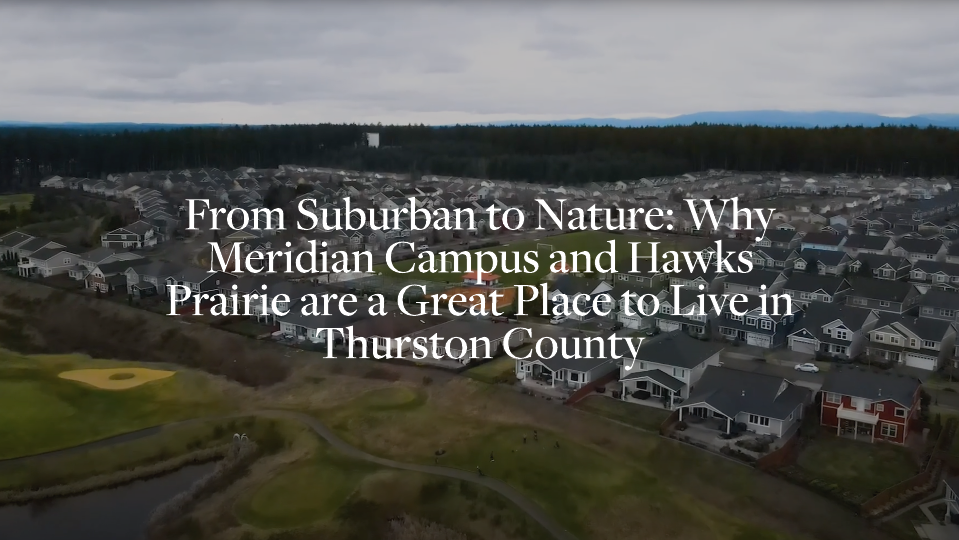 Uncategorized
10/31/2023
From Suburban to Nature: Why Meridian Campus and Hawks Prairie are a Great Place to Live in Thurston County
Nestled between the Puget Sound and the foothills of Mount Rainier, Thurston County in Washington state is becoming an increasingly popular destination for those looking to escape the hustle and bustle of nearby Seattle and Tacoma. The county offers a unique blend of urban centers, rural farmland, and stunning natural beauty. One place that stands out is the Meridian Campus and Hawks Prairie area in northeast Olympia. If you're considering a move to Thurston County, here's why Meridian Campus and Hawks Prairie should be at the top of your list.
The Beautiful Natural Surroundings
The Meridian Campus and Hawks Prairie area boasts many parks and trails throughout the neighborhood, catering to both avid hikers and casual walkers. Just a stone's throw away, you'll find Tolmie State Park, with its beachfront and forest trails. The William Ives Trail offers a scenic route through a wooded environment ideal for strolls or trail runs. For a more local experience, the Meridian Neighborhood Park provides a getaway right in the heart of the community. This includes a wide open field, picnic areas, sports court, and playground. If you're a wildlife enthusiast, the Nisqually Wildlife Refuge to the north is a must-visit. Featuring a variety of habitats, the refuge is a haven for numerous bird species and offers stunning views over Puget Sound.
With such natural amenities within walking distance of many homes, residents find a deep connection to the great outdoors right on their doorstep. The area's abundant green spaces make it an excellent choice for families with children and pet owners.
Recreation and Entertainment
Regarding recreation and entertainment, the Meridian Campus and Hawks Prairie area are experiencing a surge of innovative, community-focused developments. One standout is 23 Kitchens, a unique fusion of culinary and recreational delight. This comprehensive entertainment complex combines a world-class pickleball facility, engaging backyard games, and live entertainment, all under one roof. The centerpiece is a vibrant, food-forward restaurant serving a diverse menu. With an ambiance that feels like an extension of home, 23 Kitchens is more than an eatery; it's a space where community thrives, and residents can gather to unwind, connect, and enjoy the simple pleasures of good food and good company. This is just one example of the growing entertainment and recreational spaces making Meridian Campus and Hawks Prairie an even more desirable place to live.
For golf enthusiasts and those keen to embrace an active lifestyle, the Hawks Prairie Golf Course is another notable attraction in the Meridian Campus and Hawks Prairie area. This impeccably-maintained facility offers two 18-hole championship courses that cater to golfers of all skill levels. Each class offers unique challenges and stunning views, making every game an enjoyable and memorable experience. Besides golf, the club boasts a practice facility, a pro shop, and a restaurant. Truly, Hawks Prairie Golf Course embodies the area's commitment to providing diverse recreational spaces, further enhancing the region's appeal as a place to live and play.
The Diverse Housing Options
The Meridian Campus and Hawks Prairie area is not only rich in recreational opportunities but is also recognized for its diverse housing options, accommodating a spectrum of lifestyle needs. The Jubilee community is a testament to this, specifically designed for residents aged 55 and over, promoting an active and community-centric lifestyle. Single-family homes, both large and small, offer variety to meet the needs of any family size or dynamic. For those who prefer a more communal and starter living, there are numerous apartment communities scattered throughout the area, offering a blend of amenities, styles, and pricing to fit various budgets. Indeed, with such a wide array of housing options, anyone, regardless of their lifestyle or stage in life, can find a place to call home in Meridian Campus and Hawks Prairie.
As a standout among the premier housing communities in the region, Meridian Campus showcases its relatively recent development through its pristine, modern amenities and architecture, offering its residents a fresh and vibrant living experience. Whether new to the area or seeking an active, fulfilling community, the Olympic Sotheby's International Realty agents are ready to assist you. Leveraging their extensive knowledge of the region, exceptional service, and personal approach to their client relationships, they are committed to helping you discover the ideal home in this dynamic and flourishing community.