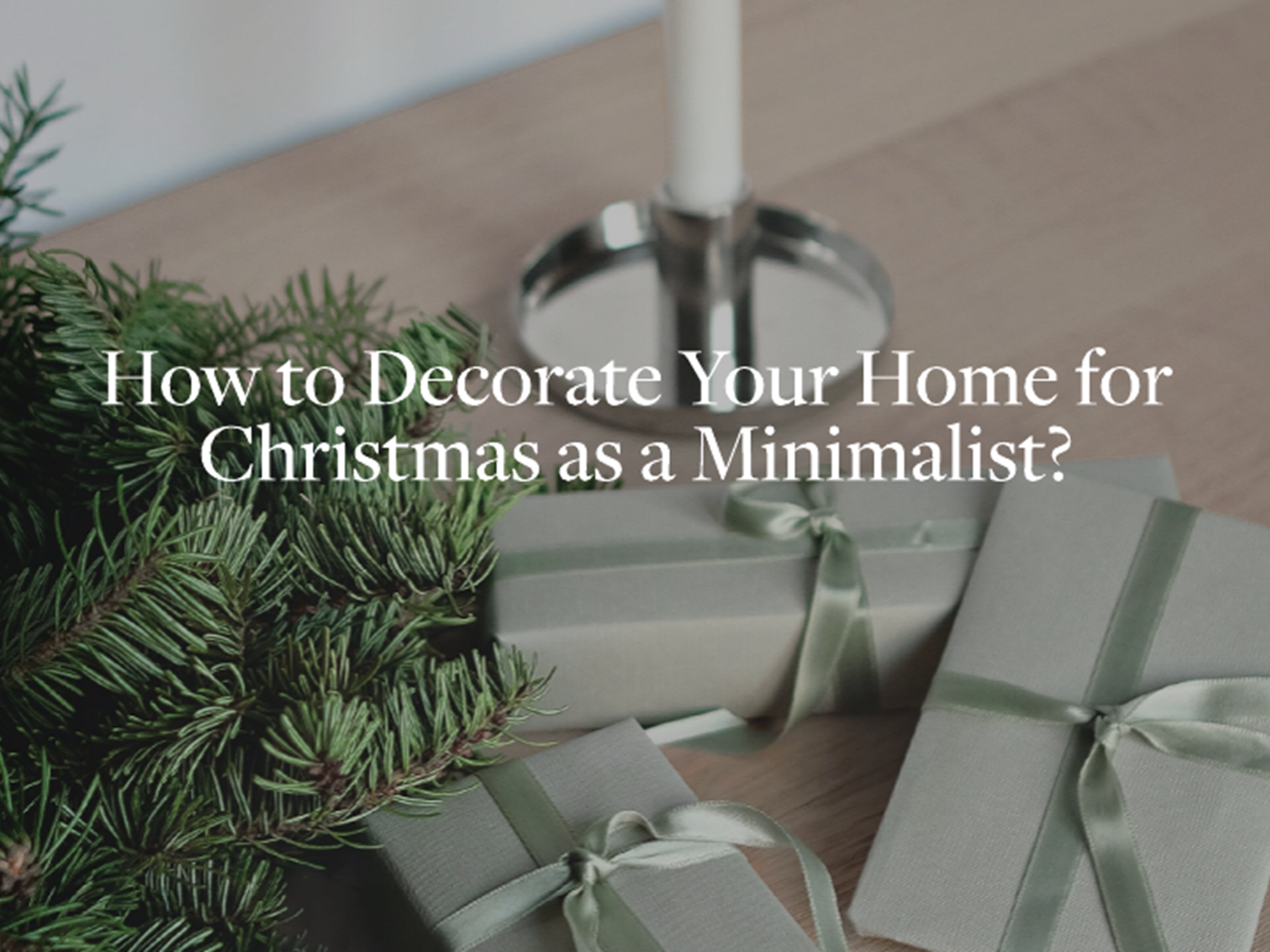 Uncategorized
11/14/2023
How to Decorate Your Home for Christmas as a Minimalist
If you're a minimalist, decorating your home for the holidays can often feel overwhelming. The thought of tacky ornaments, cluttered shelves, and crowded tabletops probably gives you hives. But just because you're into a more pared-down style doesn't mean you can't celebrate the season. With careful curation and a few decor tricks, you can create a warm and inviting holiday atmosphere without sacrificing your minimalist aesthetic. Let's dive in!
Keep it Clean and Minimal.
First and foremost, prioritize cleanliness and simplicity in your holiday decor to maintain your minimalist aesthetic. Employ a neutral color palette, emphasizing cool white, grey, and beige instead of the traditional festive reds and greens. This approach will not only preserve the minimalist feel of your home but also elevate the overall look, imbuing it with a touch of sophistication.
Moreover, consider working with natural textures and elements like wood, leather, or marble, as these components can add depth and intrigue without complicating your aesthetic. For instance, a simple, elegant wreath of eucalyptus or pine sprigs can be just what you need to create a subtle yet unmistakable holiday atmosphere. A wreath can be hung on a door or placed on a table to evoke warmth and cheer while remaining true to your minimalist principles.
Use Dual Purpose Items
Make your holiday decor serve double duty. Choose items that, in addition to embodying your aesthetic, also provide a practical function. This approach reduces clutter and introduces an element of coherence and intentionality into your decor.
Consider decorative baskets as a chic storage solution for winter blankets—a choice that adds a cozy touch. Instead of adding more items to your space, swap your regular pillows for holiday-themed ones. This simple change can transform the vibe of your room from everyday living to holiday cheer, all while maintaining your minimalist style.
Your dining table can also serve as your holiday inspiration. Modern candlesticks and sleek glassware can create an elegant and understated wintery setting. And it's not just about aesthetics—these pieces are functional during meal times, too. You can also consider utilizing a table runner instead of a tablecloth for your dining table. Table runners are a minimalist's secret weapon—they add aesthetic interest and color without overwhelming the space. Plus, using a runner allows the beauty of your table to shine, which a tablecloth would otherwise obscure. Choose a simple pattern runner or a muted, festive color for a subtle holiday touch.
Use Garlands in Unique Ways
Another inventive way to introduce the holiday spirit into your decor is to utilize tension rods, typically for curtains or showers. These rods can serve as perfect hanging spots for garlands. Consider hanging a simple, tastefully adorned wreath from a tension rod placed in entryways between rooms or hallway openings. This unconventional garland placement adds a unique aesthetic appeal to your home and offers an alternative to the traditional mantle. This decor idea is particularly effective in subtly delineating different spaces within your home, adding an extra layer of warmth and charm to your minimalist holiday.
Embrace Odd Numbers and Strategic Placement
In the realm of minimalist holiday décor, remember to adhere to the design principle of decorating in odd numbers, which creates harmony and visual interest. For instance, you might choose three large statement pieces—a festive print to hang on the wall, a tasteful wreath for the door, and a simple, well-lit Christmas tree. These pieces bring the holiday spirit into your home without cluttering the space with smaller knick-knacks. This strategy not only enhances the visual appeal of your décor but also reinforces the calm, uncluttered feel that is the hallmark of minimalist design.
Lastly, even the most minimalist Christmas can be a festive and joyful celebration. The key is to use subtle additions that bring a significant impact. For instance, a single string of twinkling lights can bring a glow to any room, or a bowl of pine cones collected from a winter walk can serve as a nature-inspired centerpiece. A beautifully wrapped gift can even double as decor until it's time to open it. Remember, the essence of minimalistic holiday decor lies in the 'less is more' philosophy. It's not about eliminating joy or festivity but choosing each element with intention and letting it shine in its own right. Please do not overdo it; instead, focus on creating a warm, peaceful holiday atmosphere that reflects the season's spirit.
In conclusion, achieving minimalist holiday decor elevates simplicity and intentionality in every design choice. Utilize a color palette that is clean and uncomplicated, favoring neutral tones and perhaps one or two accent colors. Incorporate natural elements such as wood, which adds warmth and texture while maintaining simplicity. Employ dual-purpose items that serve as functional elements and decor, reducing clutter. Opt for larger decor pieces arranged in odd numbers for a harmonious and visually exciting setup. And finally, pay attention to the placement of each item, guiding the observer's eye from left to right, from heavier to lighter objects. Remember, minimalist decor is not about removing the festive spirit but letting each chosen element shine, creating a serene and joyful holiday atmosphere.