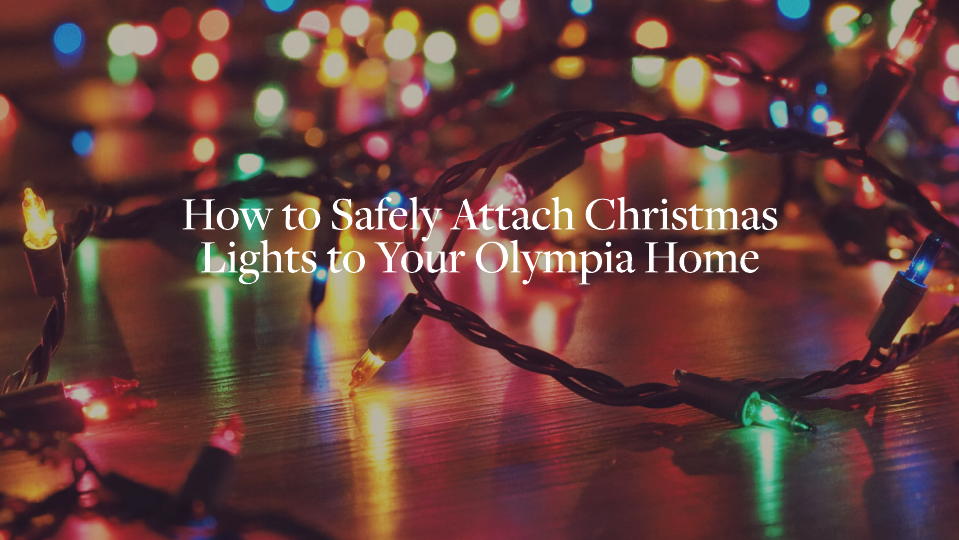 Uncategorized
11/8/2023
How to Safely Attach Christmas Lights to Your Olympia Home
When should you start stringing those twinkling lights and merry decorations around your home for the holiday season? As the autumn leaves fall and Halloween passes, some of us quickly swap out pumpkins for Christmas ornaments and lights. Others might argue that the festive decor should hold off until the last Thanksgiving leftovers have been savored. But when it comes down to it, is there a wrong time to start spreading Christmas cheer around your home?
Christmas is just around the corner, and one of our favorite holiday traditions is decorating the exterior of our homes with lights. While it may be tempting to staple the lights directly to the roof, this approach can be dangerous, causing damage to your roof and potentially leading to a fire hazard. Fortunately, there are safe and effective ways to attach Christmas lights to your Olympia home to keep your roof and family safe. Discover the best way to connect Christmas lights to your home this holiday season.
Use Clips or Hooks: One of the best and safest ways to attach Christmas lights to your house is by using clips or hooks. These can be purchased at any hardware or home improvement store and are designed to attach lights to rooftops and gutters. There are different types of clips and hooks to choose from, depending on the type of roof you have. For shingle roofs, use clips that slide onto the shingles themselves. For flat roofs, use clips that have a flat base with screws to attach to the roof. For gutters, use clasps that snap onto the gutter. These clips and hooks will hold your lights securely in place without damaging your roof.
Use Zip Ties: If you have a metal roof or something similar, using clips or hooks may be difficult. In this case, zip ties are a good option. They're durable and can withstand harsh weather conditions. Slide a zip tie through the hole in each light bulb or along the light strand to secure the lights to the roof or gutters. This method allows you to avoid damaging the top of the gutters.
Decorate Bushes and Trees: Another great way to add a festive touch to your home's exterior is by decorating bushes and trees in your yard. Start by assessing your outdoor space to decide which trees or bushes look best when lit. For larger trees, you might consider using a pole with a hook on the end to help hang the lights higher up. When wrapping lights around a bush or tree, start from the base and work your way up, ensuring the lights are spaced evenly. Make sure to test the lights before you begin decorating to avoid the hassle of having to take them down and replace them. Use an outdoor extension cord to connect the lights, and ensure the plug is in a covered area to protect it from the elements.
Other Key Considerations: To ensure a seamless and effortless decorating experience, remember these additional points:
Safety Measures:

Confirm that all your lights and extension cords are rated for outdoor use. This is crucial to prevent any potential electrical hazards.

Pre-Check:

Always test your lights before you hang them. This will save you from the inconvenience of hanging faulty lights and having to take them down again.

Spacing:

Aim for a clean, uniform look by spacing your string lights evenly. Ideally, there should be about six or seven inches between hooks, or the equivalent of three to four bulbs' worth of spacing.

Lighted Netting:

Consider investing in lighted netting for an easy decorating solution for your bushes and hedges. It's simple to install — drape it around your greenery for a quick and beautiful illumination effect.
Be Mindful of Weather Conditions: When decorating your house with Christmas lights, be mindful of the weather conditions. Avoid going on your roof or climbing ladders when wet or icy. If you have to go on the top, wear safe shoes with good traction and use a sturdy ladder with someone holding the base. When installing the lights, test them first to ensure all bulbs are in working order and to find any frayed cords. Unplugging them when you're done is also essential to avoid electrical issues.
Hire a Professional: If you're not comfortable with the idea of attaching Christmas lights to your home yourself, or you have a particularly tricky roof, consider hiring a professional to do the job for you. They will have the expertise and equipment to safely attach your lights, ensuring they look beautiful and you can enjoy the festivities without worrying about your safety.
Decorating your home with Christmas lights not only brings joy to your own family, but your glittering display can also become a source of happiness for your neighbors. The shared experience of seeing homes lit up in celebration can foster a sense of community and togetherness, making the season all the more magical. Be sure to take a stroll or a drive around your neighborhood and nearby areas to immerse yourself in the festive spirit fully. There is something incredibly heartwarming about the sight of twinkling lights against the winter sky. However, as you decorate, it's crucial to prioritize safety and prevent any potential damage to your home. Utilize tools such as clips, hooks, and zip ties to securely attach your lights without damaging your roof. If you feel hesitant about the process, remember there is no harm in hiring a professional to do the job. They possess the expertise and equipment to ensure a beautiful, safe display. Regardless of how you proceed, be mindful of weather conditions and adhere strictly to safety protocols. With all that said, enjoy the process and have fun decorating! After all, it's these kind of activities that make the holiday season so unique. Happy decorating!