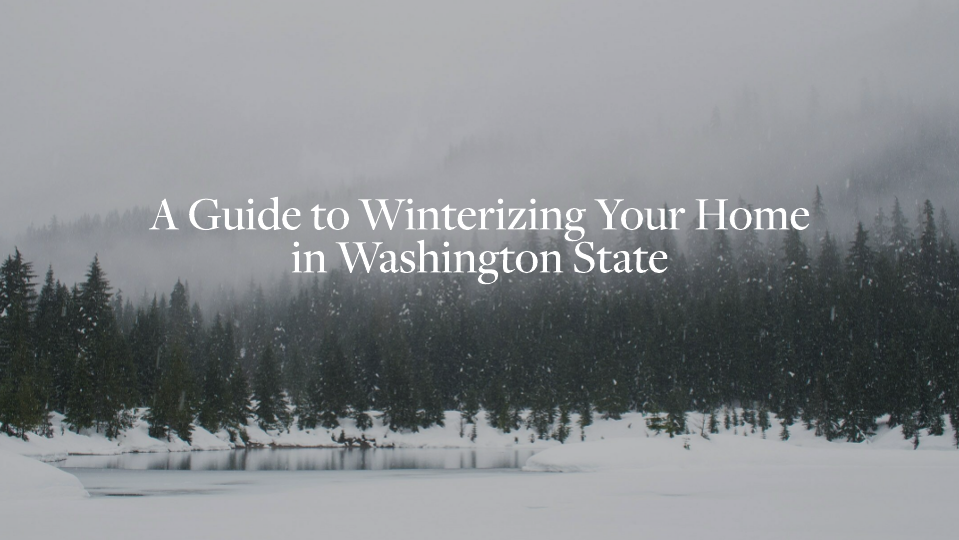 Uncategorized
11/1/2023
A Guide to Winterizing Your Home in Washington State
As the days in Washington State get shorter and the temperatures drop, it's time to begin winterizing your home. These preventative measures are essential in safeguarding your home from potential damages during the cold months, such as freezing pipes and damaging condensation. Proper winterization not only preserves the integrity of your home but also ensures a snug and warm winter indoors. Whether you're a first-time homeowner or have lived in Olympia for years, this guide will help you navigate the winterization process and ensure your home is ready for the chilly months ahead.
Preventing Pipes from Freezing
An essential step in winterizing your home is keeping your pipes warm to prevent them from freezing. This process includes shielding outdoor faucets with covers and maintaining a warm temperature in each room of your house. Outdoor faucet covers act as insulation, preventing cold air from causing the water inside the pipes to freeze.
For the inside of your home, strive to keep every room at a warm temperature, especially those with water pipes. This measure ensures that the cold doesn't reach the lines and causes them to freeze. If you're planning on vacation or will be away from home for an extended period, it's a good practice to leave cabinet doors open where pipes are present. This practice allows the warm air to circulate the lines, reducing the chances of them freezing.
Preventing Ice Dams on the Roof
Ice dams can cause significant damage to your home's roof and gutters during the winter months. They form when heat from the attic melts snow on the top, and the water refreezes at the roof's edge. Over time, these ice dams can cause water to back up under the roof shingles, potentially leading to leaks inside your home.
According to the National Weather Service, Take these measures to prevent ice dams. While it is impossible to provide a guarantee against ice dam damage to your home, the National Weather Service outlines several proactive steps to decrease the likelihood of ice dam formation:
Clean Gutters and Downspouts:

Begin by thoroughly cleaning all leaves, sticks, and other debris from your home's gutters and downspouts. This allows melting roof snow to flow into gutters and downspouts, preventing water pooling that can create ice dams.

Keep Roof Snow to a Minimum:

Make every effort to keep snow on your roof to a minimum. You can use long-handled tools called "roof rakes" to remove snow from your top while standing safely on the ground. Keeping heavy snow loads off your roof reduces the chances of ice dam formation and roof failure due to weight.

Maintain Clear Gutters and Downspouts:

Throughout the winter, ensure gutters and downspouts remain clear of snow and icicles to facilitate proper runoff.

Evaluate Attic Insulation and Ventilation:

Check the insulation and ventilation in your attic. Experts agree the R-value of attic insulation should be at least R-30, though R-38 is preferred in northern climates. Additionally, good airflow from under the eaves or soffit area, along the underside of the roof, and out through the roof vents is crucial. This insulation prevents heat loss from the home's interior, and the venting allows the attic air to stay cold enough to avoid or minimize the freeze/thaw cycle on the roof.
These measures require consultation with a reputable roofing and/or insulation contractor. Consider these improvements as a worthwhile investment for the long-term protection of your home.
Remember that removing ice dams once they have formed can be a dangerous task. If ice dams have already formed on your roof, it's wise to call a professional to remove them safely.
Prepare for Emergancies
Lastly, it is essential to prepare for emergencies, particularly power outages, a common occurrence, especially in rural areas. Maintain an emergency kit in your home with necessary items such as propane heaters, extra food, blankets, and flashlights. However, exercise extreme caution while using propane heaters or candles indoors to prevent potential fire hazards. Unattended, these heat sources can quickly turn from lifesavers into a significant threat. Safety should always be your prime concern, even in emergencies. Equally important is to prepare your vehicle for winter emergencies. Often overlooked, this can be a lifesaver if you find yourself stranded on the side of the road in severe weather conditions. Always keep an emergency kit in your car, including extra blankets and flashlights. These items can provide warmth and visibility when waiting for assistance in the cold. Ensure these supplies are checked and refreshed seasonally.
Winter is not just a season of challenges and potential hazards; it is also a time of fun. It's the season when you can indulge in snowball fights, build snowmen, go skiing, or enjoy an exhilarating slide down a snowy hill. And when the chill becomes too much, it's a perfect time to retreat indoors and curl up by a warm fire with a good book. However, to truly enjoy these moments of winter wonder, it is crucial to take the necessary precautions to make the season less stressful and more enjoyable. Don't let the winter weather catch you off guard; winterizing your home, especially in areas like Washington State, is essential to maintaining a warm, safe, and comfortable environment. This involves insulating your home, protecting your pipes, ensuring your heating system is up to the task, keeping pests at bay, and preparing for power outages. By taking these steps, you're not only protecting your home but also ensuring that your winter remains fun, no matter what it throws your way. Have fun this season, stay warm, stay safe, and enjoy all that winter has to offer.