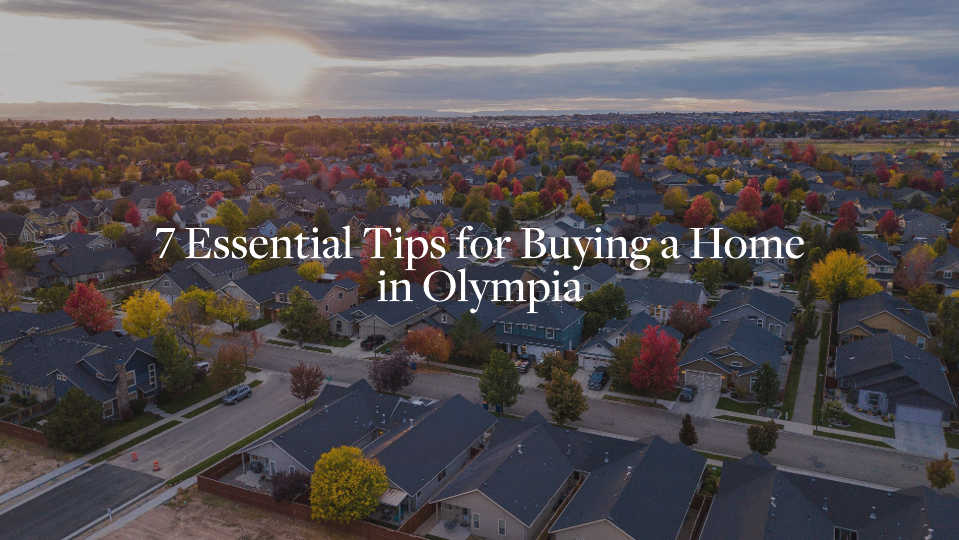 Uncategorized
10/24/2023
7 Essential Tips for Buying a Home in Olympia
Olympia, the capital city in Washington State, and the encompassing Thurston County has a unqiue blend of natural beauty, rich history, and cultural diversity. Nestled at the southern end of Puget Sound, Olympia offers scenic natural forests and beautiful waterways, making it perfect for an outdoor enthusiast. The city prides itself on its community, celebrated through art galleries, music festivals, and local cuisine. Its thriving economy, bolstered by a strong government and education sector, provides ample employment opportunities. Thurston County, with its blend of other small other towns, complements Downtown Olympia's urban appeal, offering a diverse lifestyle choice for all its residents. Combined, Olympia and Thurston County present an unparalleled living experience, making them an attractive destination to settle down and call home.
Buying a home can be one of the most exciting and overwhelming experiences you will pursue. This is especially true for the first-time homebuyer or residents new to the Olympia area. Navigating the real estate market here on your own can be daunting. We, at Olympic Sotheby's International Realty, hope to make this process easier and more enjoyable for you. We provide an unmatched level of service to guide you through the whole process and invite you into this growing community.
Get a Pre-approval Letter
Before you start looking for a home, knowing how much you can afford is essential. Getting pre-approved will let you know precisely what you can afford. It will also show sellers you are a serious buyer. This is a crucial step in the home-buying process. Working with a lender you trust can significantly impact your experience. Ideally, opt for a local lender. A local lender will understand the nuances of the Olympia real estate market and be more accessible for communication, making the process smoother for you and your agent. Don't hesitate to ask your real estate agent for recommendations. They can usually suggest reputable lenders with whom they've had successful transactions.
Hire a Local Real Estate Agent
A reliable real estate agent who knows the Olympia area is crucial. They can guide you through the market and provide valuable insight into neighborhood information, pricing trends, etc. Finding someone professionally knowledgeable and easy to communicate with is crucial when searching for an agent. Purchasing a home is a major monitary decision, and having an agent you can talk to quickly and openly can transform your home-buying journey from overwhelming to enjoyable. At Olympic Sotheby's International Realty, our agents are not just focused on buying and selling homes. More importantly, they are committed to fostering lifelong relationships with our clients throughout the process. We believe that every interaction is an opportunity to build a lasting relationship. This belief shapes our approach and ensures we provide each client with a personalized and exceptional home-buying experience.
Research the Olympia Real Estate Market
The real estate market in Olympia can vary from season to season. Take some time to research market trends and patterns. It will help you know the best time to buy or sell within the market. Before beginning your house hunt, it's crucial to have a conversation with local real estate agents about the current state of the Olympia market. We are navigating through unprecedented times, with high interest rates and dwindling inventory posing challenges for prospective homebuyers. Nevertheless, despite these hurdles, quality homes are continually listed in Olympia. By consulting with local agents who have their fingers on the market's pulse, you can understand the trends and expectations, better preparing you for the home-buying journey. This step will also help you identify potential opportunities and strategize effectively, even in a demanding market.
Determine Your Must-Haves
Now comes the exciting part - determining what you want in a home. This involves detailing your 'must-haves' and 'nice-to-haves.' 'Must-haves' are the non-negotiable elements that a potential home should possess. These could include several bedrooms, proximity to work or schools, or essential amenities like a laundry room or a spacious kitchen.
On the other hand, 'nice-to-haves' are the extra features that would be great to have but aren't deal-breakers—for instance, a swimming pool, a walk-in closet, or a finished basement.
Creating this list will significantly streamline your home search process, helping you focus on homes that meet your criteria.
Here's a starting point:
Must-Haves
Minimum of 3 bedrooms

2 Bathrooms

A safe neighborhood

Proximity to work

A functional kitchen
Nice-to-Haves
A backyard with a spacious deck

A finished basement

A home office

A two-car garage
Remember, while knowing what you want is good, being overly critical might hinder your search. Especially if you're a first-time homebuyer, remember that this might not be your forever home. The aim is to find a home that fits your current needs and lifestyle, with the potential for growth and adaptability in the future.
Attend Open Houses
If you are new to Olympia, attending open houses can give you a better feel for what is available. You can explore different neighborhoods and see what features and properties they offer. Open house visits provide an excellent opportunity to evaluate potential homes in person. These visits allow you to experience the space physically, assess the property's condition, gauge neighborhood vibes, and compare different homes. However, they may also be bustling and somewhat chaotic, especially if many prospective buyers attend.
To counter this, scheduling a private showing with your real estate agent can be beneficial. In a less rushed and crowded environment, you'll have the chance to consider things more thoroughly, ask detailed questions, and visualize your life in the home. Remember, acting quickly is crucial due to the current low inventory in the housing market. If a property catches your eye, don't hesitate to request a private viewing.
Yet, remember that there are instances when you have the luxury of visiting homes multiple times before making a decision. Use these opportunities wisely to ensure your chosen house aligns with your 'must-haves' and satisfies as many 'nice-to-haves' as possible. Flexibility and adaptability are key during home buying, particularly in a fast-paced market.
Consider the Property's Condition
When you visit homes, don't forget to evaluate the property's condition. Take note of any repairs or updates needed, which can factor into your overall decision and any adjustments to the offer you might make. Buying a fixer-upper can be a fun and rewarding experience, allowing you to put a personal touch to your future home. However, managing expectations is crucial. The difference between 'want-to-do' renovations and 'have-to-do' repairs can be substantial. Your dream improvements might include a gourmet kitchen or a spa-like bathroom. Still, essential tasks like fixing the roof, updating the electrical system, or resolving structural issues should take precedence.
After your offer has been accepted and before finalizing the purchase, it is highly advisable to schedule a professional home inspection. Home inspectors are trained to uncover potential issues you may overlook, like hidden water damage, outdated wiring, or a failing furnace. They provide a comprehensive report detailing their findings, helping you better understand the property's condition. This inspection is invaluable as it highlights the necessary repairs and allows renegotiating the price or requesting repairs before finalizing the purchase. Don't be afraid to negotiate after evaluating the condition and price. An excellent real estate agent can help with this part. Negotiations might include repairs, closing dates, financing options, etc.
Prepare for Closing
As you near the closing process, ensure you have reviewed all the necessary documents and are prepared for the final closing and move-in day. This is indeed an exciting period in your home-buying journey. The closing process may have seemed lengthy, but today is the day you finally sign for your new home. It's essential to ensure you have all arrangements firmly in place. This includes having your moving supplies ready for the big move. Be proactive in changing your address on all relevant platforms and documents, such as your driver's license, postal service, bank accounts, and subscriptions. This careful preparation alleviates the stress of last-minute changes and allows you to enjoy the thrill of moving into your new home. Today marks the end of the home-buying process and the beginning of a new chapter in your life. Congratulations on your new home!
Don't let lingering questions or concerns keep you from starting your home-buying journey. Every journey begins with a single step, and yours is no exception. Remember, you're not alone in this process. This is why you partner with a local agent, to have someone by your side who knows the ins and outs of the real estate market. They will guide you through every stage, answering your questions, addressing your concerns, and ensuring a smooth and successful transaction. So why wait? Start your journey today. Contact a local agent and take that first step toward owning your dream home.