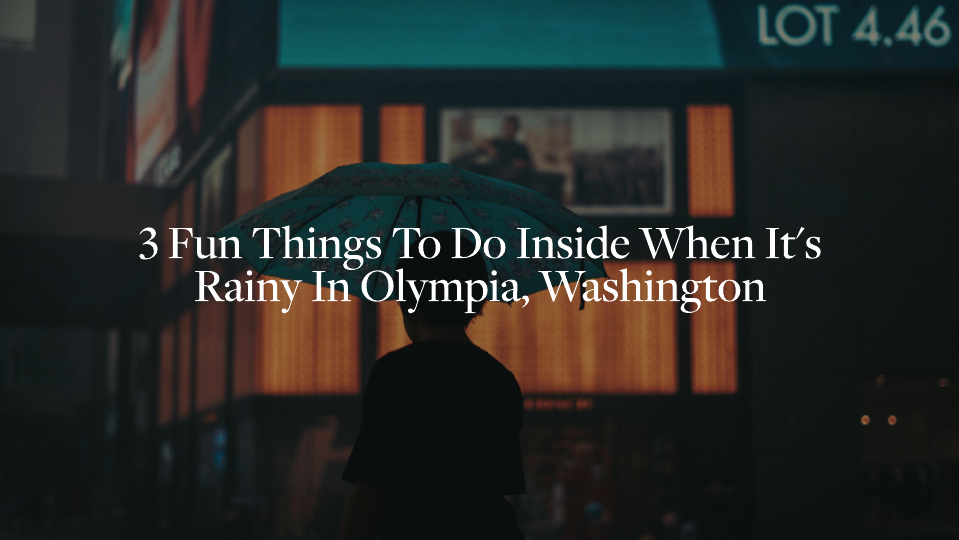 Uncategorized
10/17/2023
5 Fun Things to Do Inside When It's Rainy in Olympia, Washington
Well, I hope you enjoyed the sun the past few weekends. The rain is here, but let it not ruin your fall plans. You can have plenty of fun indoors, at home, or around town. It's easy to feel restless or bored when the rain starts to pour outside, especially when you can't go to the park or for a walk like you would on a sunny day. But don't worry; you can do plenty of fun and productive things inside on a rainy day in Olympia—things like playing a board game, doing a puzzle, organizing your home, or baking something. Let's explore fun activities inside when it's rainy.
Play Board Games
Playing board games is a great way to pass the time when it's rainy outside. Whether it's a gathering of many or a party of two, board games can bring much fun and laughter to such a dreary day. Why not make it a neighborhood event? Invite your friends and neighbors and create a sense of community in your own living room or kitchen table. There is an endless list of games to select from. You could choose universally loved games like Monopoly or Scrabble or try something new and exciting like Settlers of Catan or the classic game of Risk. Pull out a deck of cards if something simple is more your style. To top it all off, don't forget to prepare some delicious snacks and refreshing drinks like warm tea or hot chocolate to pair with some warm pumpkin bread. This way, you don't just have a game night; you have a party.
Cook or Bake
This leads us to the next thing you can do on a rainy day - bake something. Let the aroma of fall fill your home as the delicious smells of fresh bread, pastries, or cookies waft through your kitchen and into the rest of your home. One of the most satisfying activities on a rainy day is cooking or baking. This could range from experimenting with new recipes to whipping up your favorite dessert. Plus, the best part is having a delicious meal or a fresh batch of treats to enjoy when the rain eventually ceases. The act of cooking or baking not only keeps you engaged but also results in a delightful outcome that can be shared and enjoyed by all. Try something new, get creative, and learn a new skill. Who knows, you may discover a hidden passion. And even if it doesn't turn out, the experience is always worth it.
Get Cozy with a Book or Movie
Diving into a captivating novel or watching a series of your favorite shows are fantastic ways to spend a rainy day. Summer tends to be bustling, and those New Year goals of reading numerous books might have slipped. But a rainy day presents the perfect opportunity to reignite that reading passion, cozy up by the fire, and immerse yourself in a new book. There is always a new book, whether classics, thrillers, romance, or biographies. Alternatively, turning on a movie marathon can be just as engaging. Whether rewatching your favorite series, learning something new watching a docuseries, or indulging in nostalgic classics, a movie marathon can make a gloomy day enjoyable. So grab your favorite blanket, prepare some popcorn, and prepare for hours of entertainment.
Organize Your Home
If you are a proactive homeowner, you might discover that organizing is a therapeutic way to spend a rainy day. Although it might initially seem like a chore, these gloomy days provide the perfect opportunity to tackle the clutter that's been building up. Choose a small, manageable project, such as clearing out a closet, reorganizing your pantry, or sorting through items that are no longer in use. Once you get started, you might find that this cleaning and organizing process helps you reclaim your living space and serves as a therapeutic activity for future days, providing a satisfying sense of accomplishment once the task is completed. You never know. It might lead to a trip to your local home improvement store for new shelves or storage solutions. Either way, organizing your home on a rainy day is a win-win situation.
Start a Home Project
While at your favorite home improvement store, you may find yourself inspired to start planning an even more extensive project. The possibilities are endless. Rainy days in Olympia present the perfect opportunity to embark on that home project you've been considering for a while. Whether painting a room, starting an indoor herb garden, or finally constructing that bookshelf you've always wanted, there's no time like the present. Start browsing Pinterest or HGTV and find inspiration. If you embark on a larger project, consider preparing all the necessary materials the day before so you can start first thing in the morning. This keeps you engaged on a rainy day, enhances your living space, and can add value to your home, adding personal touches that truly make your house a home.
In conclusion, a rainy fall day is not a nemesis but an ally, providing us with the unique opportunity to embrace relaxation or channel our energy into productive tasks within the home. These seemingly gloomy days can jump-start decluttering and organizing, rejuvenating our living spaces. They also present the perfect backdrop for creative home projects, transforming our surroundings and adding a personal touch to our homes. So the next time the rain starts to pour, remember: It's not a day lost to inclement weather, but a day gained for tranquility and productivity. Embrace it and make the most out of every rainy day. Happy organizing and happy creating!