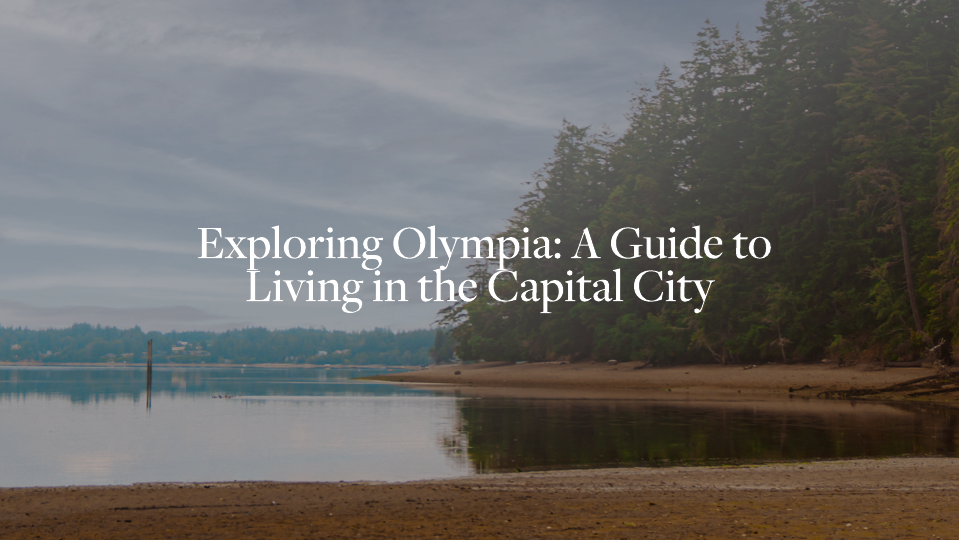 Uncategorized
10/25/2023
Exploring Olympia: A Guide to Living in the Capital City
Its natural beauty and cultural diversity define Olympia's unique charm, making it an appealing destination for those seeking a balanced lifestyle. A significant part of Olympia's allure lies in its proximity to the great outdoors. Its picturesque landscape, with the stunning Puget Sound on one side and expansive forests on the other, offers countless opportunities for recreational activities. Olympia has you covered, whether you enjoy kayaking, hiking, or picnicking at one of the many public parks.
Olympia's cultural diversity is equally impressive, reflected in our communities, food, and festivals. The city brims with a vibrant arts scene and diverse culinary offerings and hosts various events that celebrate the myriad cultures that call Olympia home. Another highlight of Olympia's cultural diversity is the thriving market scene. The Downtown Olympia Farmers Market operates year-round, offering a vast selection of locally sourced products, including fresh produce, handcrafted goods, and artisanal food items. This market supports local farmers and small businesses and serves as a social hub for community members and visitors. In addition to the downtown market, Olympia is dotted with numerous night markets. These events, usually set against live music and twinkling lights, allow local artists, crafters, and food vendors to showcase their products, adding to the city's energetic nightlife. The night markets are a must-visit for anyone looking to fully experience Olympia's unique blend of community spirit and cultural diversity.
Despite its irresistible pull towards a more relaxed, nature-influenced lifestyle, Olympia maintains an advantageous proximity to bustling city life. Tacoma and Seattle, known for their lively urban scenes, are just a short drive away, perfect for those special occasions that call for a change in environment. Whether it's a concert, a theatre performance, or a sports event, the nearby city life offers residents a spice of urbanity when desired.
If Olympia, Washington, is your prospective home, it promises a balanced, fulfilling lifestyle. This guide highlights this city's numerous benefits and charms, from its vibrant neighborhoods and parks to its amenities and community events. Whether you're a new resident or a longtime homeowner, we hope this virtual tour of Olympia helps you to explore and appreciate the city to its fullest.
Neighborhoods
Olympia has many vibrant neighborhoods, ranging from historic areas like South Capitol and Bigelow Highlands to newer, up-and-coming developments in West Olympia. Each community has its own culture, character, and charm.
If you're searching for a unique Halloween experience, look no further than the South Capitol Neighborhood. Renowned for its festive block parties, South Capitol transforms into a lively hub on Halloween night, offering unforgettable neighborhood camaraderie. The enchanting houses, decked out in creative decorations, create a fantastic atmosphere. The streets buzz with children trick-or-treating, adults admiring the decorations, and everyone savoring the sense of community. Don't miss this Halloween block party if you're in Olympia; it will provide a festive evening like no other. The uniqueness of Olympia extends far beyond the South Capitol Neighborhood. Indeed, throughout Olympia's city limits and into Thurston County, you'll find a variety of unique neighborhoods that each provide a distinct experience. In West Olympia, bustling shopping districts and residential areas coexist, offering residents an exciting mix of commerce and comfort. The community of East Olympia, defined by its rustic charm and rich agricultural heritage, provides a tranquil retreat from the fast pace of city life. Meanwhile, the waterfront district of Downtown Olympia is a cultural hotspot filled with art galleries, boutiques, and diverse culinary restaurants. In its unique way, each neighborhood in Olympia embodies a slice of the vibrant tapestry that defines life in this beautiful Pacific Northwest city.
Parks and Recreation
Olympia, along with its neighboring cities, Lacey and Tumwater, raises the bar regarding parks and recreational areas. There are abundant green spaces, each with unique charm and appeal. Lacey boasts parks like Rainier Vista and Wonderwood Park, perfect for a family picnic, a game of catch, or an afternoon stroll. Olympia's Watershed Park offers a sanctuary for nature lovers, providing a network of walking trails. With its large covered picnic area and expansive playground, Tumwater's Pioneer Park is ideal for family gatherings, floating the river, or community sporting events. Moreover, Olympia is a dream destination for outdoor enthusiasts. The city also has numerous natural attractions, including the sprawling 3,700-acre Capitol State Forest. This vast forest is perfect for adventure seekers, offering ample hiking, biking, and horseback riding opportunities.
In addition to these recreational spaces, Olympia is home to several remarkable state parks, such as Tolmie State Park and Millersylvania. Tolmie State Park, nestled on the shoreline of Nisqually Beach, offers three miles of trails, an underwater park, and a saltwater beach that promises a refreshing day outdoors. Millersylvania, on the other hand, is an idyllic retreat enveloped by old-growth cedar and fir trees. The park offers excellent camping facilities, walking paths, and a lake ideal for fishing or paddle boarding.
Schools and Education
Olympia and Tumwater's educational institutions stand out for their commitment to academic excellence, balanced with an approach to student development. The Olympia School District is renowned for its high-achieving public schools, providing quality education to thousands of students each year. This award-winning district is recognized for its innovative teaching methods, highly qualified staff, and diverse curriculum designed to cater to students' varied learning needs. Parents often commend the district for its strong focus on student engagement and nurturing learning environment.
In addition to the public schools, Olympia offers a variety of private schools, each with unique programs and teaching philosophies. Whether you're looking for a faith-based curriculum, a Montessori approach, or a school with a specific academic focus, Olympia has an option that will suit your family's needs. These factors contribute to Olympia's reputation as an excellent city for raising a family, offering top-rated schools and diverse education options that cater to every student's unique needs and aspirations.
Indeed, the offerings of Olympia, from its vibrant outdoors to its exceptional educational institutions, far surpass what can be captured in a single article. Its unique blend of natural beauty, robust education system, and a strong sense of community truly sets it apart. If you are intrigued by the prospect of calling Olympia home, don't hesitate to contact a local agent at Olympic Sotheby's International Realty. Each of our agents is deeply ingrained in their community, and they would be delighted to share more about why they adore this area. Becoming a part of the Olympia community could begin with just a simple conversation.